About Us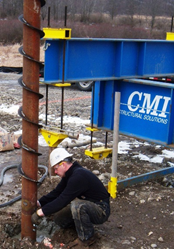 We are Upstate New York's premier, specialty design and installation contractor of Geotechnical systems. We have been involved in the foundation business for over 22 years, providing expertise in structural engineering solutions. Our team is dedicated to upholding high moral values, honesty and trust. We strive to provide the very best service to our customers, and firmly believe that, as a result, we can be included as a valued partner for your business' geotechnical construction needs. CMI Structural Solutions has a reputation for finding innovative ways to solve difficult problems through our many years of hands-on experience.
CMI Structural's approach has always been to reach beyond the industry's comfort zone and take on work considered by some to be 'too difficult' and, in doing so, finding innovative structural, foundation and geotechnical solutions for our customers. When working with CMI, you can be assured that we will be there when you need us, and complete our scope of work on time and within budget.
Our collaborative attitude and open communications along with our rapid response and customer focus is what keeps our clients coming back to CMI.
Contact one of our foundation consultants today to see for yourself.
We sincerely look forward to working with you in the near future,
The CMI Team