Stelcor Piles
STELCOR Piles are the next evolution in micropiles that install quickly and effectively. With no vibration, and no soil removed, you can rest assured knowing you are saving money. These piles provide large capacity support even in poor soil conditions. CMI is the exclusive installation contractor for these high capacity piles in the Upstate, NY area.
The Stelcor piles are drilled into the ground using high torque drive heads and are completely encased with grout. As the pile is installed, high strength grout is pumped continually into the earth basin formed at the surface by the displacement head and pulled down with the reverse auger to fill the void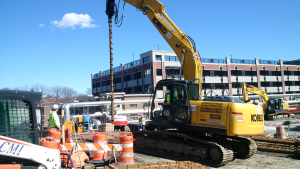 created. This includes the corrugated shape made by the deformation part. The center of the shaft is then filled with grout.
Stelcor piles consists of a helical shaped displacement head followed by a deformation part and a reverse flight auger welded to the pile shaft which continues the full length of the pile, including the extensions if needed.
The result is a very impressive, large capacity pile consisting of an irregular shaped grout column, a densified area of soil around the column, a high strength steel center shaft extending the full length of the pile and a positive engagement of the grout to the shaft via the auger flight.
Call (888) 300-3936 today for more information or to discuss your project.